Ale Montañez
(Güímar, Tenerife, Spain)
Completely self-taught artist, he has preferred to reject any academic instruction that did not allow him to transmit his particular vision of art.
The work of this young artist is situated at an intermediate point between abstract and figurative expressionism.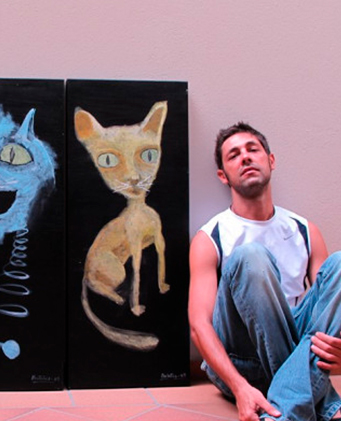 About me
Ale Montañez (Güímar, Tenerife, Spain). A completely self-taught artist. He has preferred to forego any academic instruction which might prevent him from conveying his particular artistic vision.
The output of this young artist falls between abstract and figurative impressionism.
His first works appear at the beginning of 2007: small scale creations in which, using basic techniques like charcoal, graphite and pastels he begins to create works with a wide diversity of colours together with a certain mystic harmonisation, which will become the principal characteristic of his paintings.
By 2008 the paintings of Ale Montañez had already begun a process of change, moving to works on a considerably larger scale. The use of acrylics provided him with a fuller range of colour, which will become one of the principle characteristics of his work, in some cases taken to extremes. He will therefore stand out because of his illustrative diversity, which is reflected to a great extent in his work and which at all times causes his intuitive and personal vision of reality to predominate.