Amsterdam in love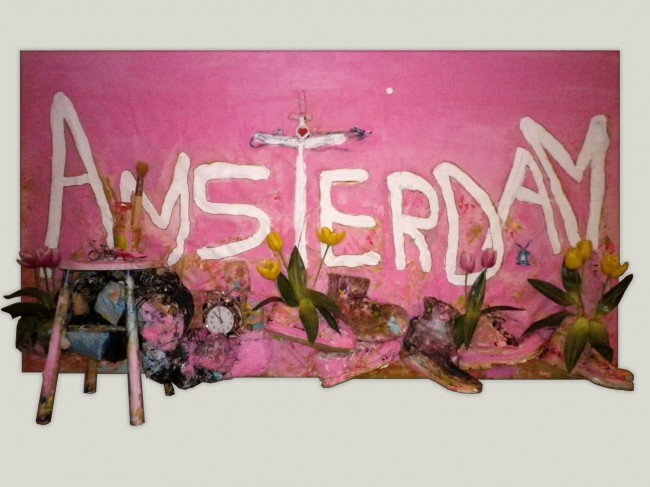 Measurements: 220 x 160 cm.
Technique: Acrylic on canvas. Shoes, clock, tulips and an armchair.
---
I started this work the last night I spent in my house in Amsterdam. I felt I was ending a stage and I wanted to put in it all the sensations that I had experienced in the city that inspires me so much.
I put the fabric on the floor and started putting on the paint. Then I added the shoes with which I had walked through the streets, my coat, the clock that used to wake me up, the chair from where I painted "The Mermaid from Masca," "Autumn flowers in Amsterdam", "Metamorphosis" and "From the darkness ". It also has the brush with which I painted it, a small bicycle and the cup from which I drank coffee or tea to warm me up.
Tulips emerge from the shoes, with which I wanted to represent that I was from there, that a part of me would stay forever in the city and that Amsterdam would always be in my heart.
The next day I rolled the work into a box and took it to the post office from where I sent it to Tenerife. It took just over a week to get there and during those days I remember being worried about whether they would loose it, but in the end I received it with great joy.
Once in my studio I fixed it onto wood to give it consistency and stick the objects I put onto it properly.
As I write these word the memory comes back to me of that cold December night, the smell of paint, the crackling fire, the removal boxes around the room ...
Zeni thanks for being there while I painted it. Your energy has also remained in it.